On Wednesday September 10, hundreds of Chicago Wedding Vendors gathered in the West Loop at the newly opened Morgan Manufacturing to eat, drink, network and experience new trends in the wedding industry thanks to the Knot.com
As we explored the amazing loft/warehouse space my husband and business partner Jay was given a Bow Tie tutorial from the cute guys at Rock My Bow Tie while I was adorned with a sexy tattoo from the girls at Lulu DK Tattoos.  Two great ideas for bridal party gifts!
If you have a sweet tooth like I do, the treats available were out of this world.  From Black Dog Gelato, to an interactive Donut Station from Glazed and Infused, to an over the top "Bacon Station" from Blue Plate Catering…most of us left that evening with a huge sugar buzz!
Of course the best part of the evening was meeting up with old friends and making new ones. Thanks to Megan and Denise from  The Knot Chicago for inviting us to this wonderful networking event.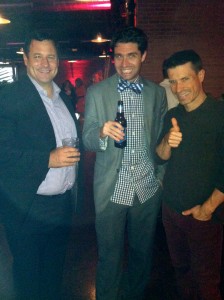 The most adorable David Rothstein and Colin Lyons (rocking a bow tie!), and my beloved Jay!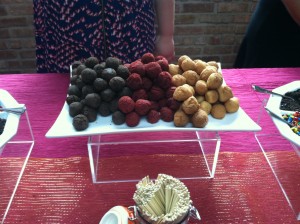 Glazed and Infused Donut Station was delicious! What a fun idea for a wedding or special event.