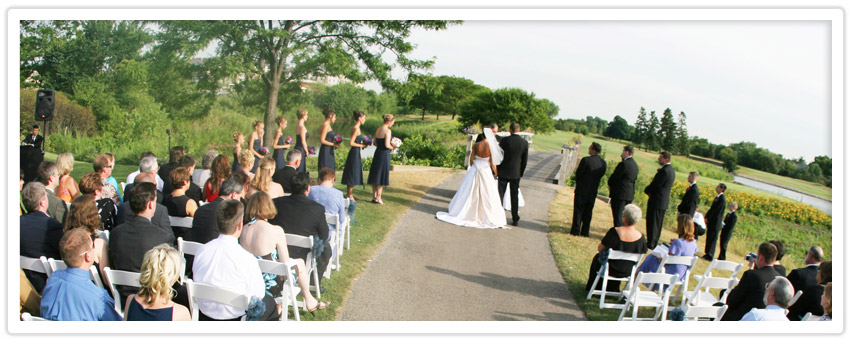 What looks great about this photo? You see no equipment at the focal point of the ceremony altar. One of the many benefits of our ceremony service is the use of remote speakers and lapel microphones so your wedding photos will be captured naturally and how you always dreamed.  Your guests will be able to hear your vows and feel connected during your ceremony, without a cumbersome stand or hand-held microphone.
You spend so much time, energy and money planning the perfect wedding so when the big day arrives you want to be sure that all of your hard work is properly executed. You should not have to think about anything other than enjoying yourselves on the most important day of your life. This is where the Something 2 Dance 2 "Day-of" Wedding Ceremony Director comes in.
You should feel relaxed and stress free during your ceremony.  We work with you on all the details of your ceremony so it is a natural fit for your Something 2 Dance 2 Wedding Ceremony Director to see that your wishes and requests are carried out. We will work with all the personnel at your venue to provide you peace of mind.
Here is a sample of the many responsibilities you can expect from your Something 2 Dance 2 Wedding Ceremony Director.
Ceremony Director Responsibilities
You will meet with your Something 2 Dance 2 Wedding Ceremony Director approximately 4-6 weeks prior to your wedding to develop a detailed ceremony time line for how the day should be mapped out. This time line will then be distributed to your venue and vendors to ensure all parties involved are aware of the order of events.
Through our interactive Online ceremony planning tools, you will be able to build a foundation for your ceremony in addition to listening to sample songs for the processional and recessional

You will discuss such things as bride & groom time lines for the morning, picture timing, transportation, arrival at the venue for the Bride & Groom, where the bride will hide, etc.
At the venue, your Something 2 Dance 2 Wedding Ceremony Director will oversee and double check every aspect of your ceremony to ensure a smooth and successful ceremony.
Ensure Bride is out of sight ½ hour prior to Ceremony

Instruct Ushers on their duties

Unity Candle/Sand Ceremony table set up correctly

Rehearse with Moms on lighting tapers

Ensure that everybody has their boutonnières or wrist corsages on (Especially Groomsmen prior to photos)

Roses to Moms in position

Set up first row seating arrangements

Ensure runner is taped down. If being pulled, make sure rope cord is easy to pull. Find person pulling runner and give them instructions on cue and how to pull.

Ensure that your Bridal Party knows what their roles are during the Ceremony

Ceremony Musicians are ready to play and go over cues

Instruct Readers on position and microphone use

Go over cues with your officiant

Put lapel microphone on officiant and Groom and test. No microphones or cords in your pictures!

Rehearse with any singers prior to Ceremony

Ring Bearer has pillow

Flower Girl has flowers in basket

Jewish Ceremony: Make sure Kiddush Cup is filled with wine; Glass (or light bulb) in place for breaking

After Ceremony: Help direct guests to appropriate location and gather Bridal Party and Parents for pictures
Whether you are planning a wedding that is big or small, casual or formal, the knowledge, professionalism, and assistance of a Something 2 Dance 2 Wedding Coordinator & Director will make your wedding ceremony flawless and memorable and most important take all the stress off of your shoulders, your parents, and bridal party.