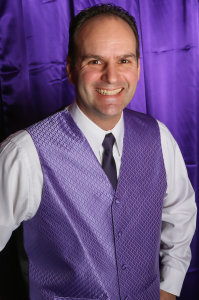 Ron Fiedler
Master of Ceremonies & DJ
BS General Business, Northeastern Illinois University, 1995
Being one of nine children, I grew up in a house that was always filled with music. Whether it was being a roadie for my brothers' bands or making mix tapes with another brother, I have always had a love for music and the effect it can have on a party if done right.
I started my DJ career in 1990, shortly after an honorable discharge from the Air Force. At that time I still had to cart around milk crates full of records and a huge "coffin" to carry my turntables. I worked in a music store all through college and was always the person people came to with the toughest questions. I pride myself on knowing all genres of music and making sure everyone in attendance will have a chance to get up and dance.
I am the father of three lovely daughters ranging in age from 13-19. They keep me up to date on all the latest songs and definitely keep me young. I have been with Something 2 Dance 2 for 8 years, but have been a wedding DJ for over 20. My wedding day was one of the absolute best days of my life, and I feel my job is to make sure you feel the same way on your big day!