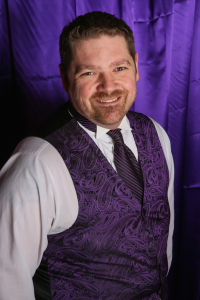 Since I can recall, I have always loved music. I think it was because of my Dad who would make me listen to the classic rock station and ask me to "Name That Song and Artist." In high school I started to branch my musical taste out to alternative and grunge (it was the 90s!). It was in high school that I found that I like to entertain people and that was usually by making them laugh.
After high school I enlisted in the Marine Crops, and was honorably discharged in 1999. Shortly after I got out of the Marine Corps, I met my wife, Michelle. We married in August of 2003 and hired Something 2 Dance 2 as our DJ company with Marc Simmons being performing as our DJ. He did such a great job, that our guests still continue to talk about how much fun it was over nine years later. That is how I came to work with Something 2 Dance 2. My wife Michelle and I have three boys, Aedyn, Liam, Keegan and one girl, Giada.
After 12 years of being a DJ at S2D2, I believe in the passion Something 2 Dance 2 brings to a wedding. I have found over the years that it is not just great Emcee skills that make a great DJ, but playing the right songs at the right time that keeps your guests dancing the night away that makes a truly memorable wedding. It starts with the planning and the agenda to the "behind the scenes" coordination that your guests never see but I promise we are doing for you. I know what it is like to get married, and how you have to trust in someone to make sure things go well on your very special day. I remember how much work was put into all the planning and how on "Your" day you just want to enjoy it. I look forward to being that person you can count on to make your wedding day as special as Marc and Something 2 Dance 2 made mine and Michelle's.