Happy Spring! At least I hope Spring will arrive soon in Chicago! Snow on March 23rd? What a long winter it has been and our team at Something 2 Dance 2 are looking forward to our Spring Weddings!
We love pastel colors…what better way to evoke sunny skies and warm weather. Lavender, pale pink, yellow, and mint green are the perfect color palettes for your Spring wedding. Can't decide which pastel color to use for your bridesmaid dresses? Why not let your bridesmaids choose the color that looks best on them?
You know how much I love dessert, and Spring has such fresh flavors available—strawberry, lemon, raspberry, just to name a few. Pastel cupcakes, strawberry shortcake and lemon bars are always a welcome addition to your dessert table.
Another great way to embrace Spring at your wedding reception is to include whimsical elements in your design. Paper lanterns, pastel socks for the groomsmen and colorful place cards can invoke a touch of whimsy at your wedding. Our team at Elegant Event Lighting can help bring your vision to life.
We love the whimsical look of paper lanterns.  Thanks to our team at Elegant Event Lighting.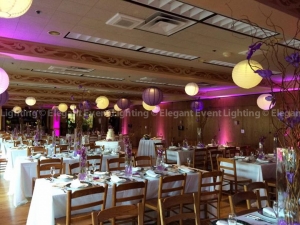 Happy Spring!