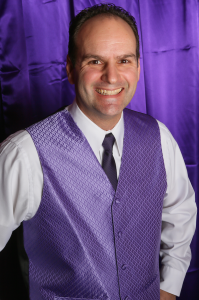 Ron Fiedler
Master of Ceremonies & DJ
BS General Business, Northeastern Illinois University, 1995
Being one of nine children, I grew up in a house that was always filled with music. Whether it was being a roadie for my brothers' bands or making mix tapes with another brother, I have always had a love for music and the effect it can have on a party if done right.
I started my DJ career in 1990, shortly after an honorable discharge from the Air Force. At that time I still had to cart around milk crates full of records and a huge "coffin" to carry my turntables. I worked in a music store all through college and was always the person people came to with the toughest questions. I pride myself on knowing all genres of music and making sure everyone in attendance will have a chance to get up and dance.
I am the father of three lovely daughters ranging in age from 10-16. They keep me up to date on all the latest songs and definitely keep me young. I have been with Something 2 Dance 2 for three years, but have been a wedding DJ for over 20. My wedding day was one of the absolute best days of my life, and I feel my job is to make sure you feel the same way on your big day!
September 30th, 2017 | Embassy Suites O'Hare
"Ron Fielder was a perfect hire for our wedding! We could not have asked for a better experience from the first meeting with S2D2 to the night of our wedding when we got extra time because our guests were enjoying themselves too much for the night to stop."
Click here to read Ron's complete review.
June 17th, 2017 | Eaglewood Resort
"We had the pleasure of working with Ron Fiedler through Something2Dance2 for our DJ. We sat down with him a few weeks before the wedding and he helped us go through our wedding night step by step, thinking of things that we hadn't even thought of yet. He continued to answer any and all questions I had prior to the wedding and was easy to get in touch with. Come the day of the wedding, he was on time and professional."
Click here to read Ron's complete review.
July 15th, 2017 | Brookfield Zoo
"Ron is truly talented in keeping the guests entertained and engaged throughout the night. He played everything on our request list, and incorporated the perfect mix of music and entertainment that kept our guests on the dance floor from the start to end. He also incorporated more than one game, and help me pull off a fun prank to my husband during the garter toss. We received so many compliments on Ron's services. I highly, highly recommend Ron, Tamara, and Something 2 Dance 2!."
Click here to read Ron's complete review