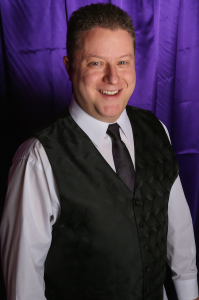 Marc Simmons
Master of Ceremonies & DJ
Bachelor of Arts, Colombia College Chicago: Major in Radio and Broadcasting
I started DJing in the summer of 1987 (8th grade) and by senior year of high school, I had my own on-air "dancemix" radio show with turntables and vinyl records. I then went on to get a radio broadcasting degree from Columbia College in Chicago, and in the process, was fortunate to intern at Chicago's B96 radio station. I have 3 amazing children in my life that I can't get enough of. I love all genres of music (some more than others) and anything to do with cars. I pride myself on having the ability to read any crowd and get them up and dancing. My passion for DJing has never stopped and never will!
May 28th, 2017 | Arrowhead Gold Club
"I told Marc I wanted a dance party the entire night and it was exactly that! The dance floor was packed from 8:45 to 12am! So many complements on him and how fantastic Marc was! Two months later, I am still getting comments about my wedding and the DJ. "Click here to read Marc's complete review.
June 6th, 2017 | Hotel Baker
"Marc included our music requests and kept our tastes in music in mind, but was also sure to include a selection to appeal to all of our guests. The dance floor was packed the entire night and everyone had a great time."Click here to read Marc's complete review.