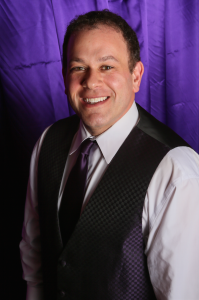 Lorry Immergluck
Master of Ceremonies & DJ
Bachelor of Arts, Roosevelt University: Major in Marketing, Minor in Advertising
I have always had a passion for music. When I was a young I was the kid playing the music for everyone, either at the park or at parties. I started DJing in 1986. I continued Djing throughout High School and College for extra money and for fun. I enjoy and have a vast knowledge of many different genres of music. Nothing makes my job more satisfying than to see a packed dance floor. I pride my self on being able to read a crowd to know how to change up the music when needed. I have a lovely wife, and have 2 wonderful boys who are my pride and joy. I know that with my musical knowledge and my outgoing warm personality, I will make your wedding night fun and a night to remember forever.
June 4th, 2016 | Huffman Residence
"We attended a wedding prior to our own that Lorry worked at and we knew we had to have him at our own! He was so much fun, kept everything organized, and played every song we had requested."Click here to read Lorry's complete review
June 25th, 2016 | Hotel Baker
"Lorry was our DJ and worked with us to plan our entire day including speeches, song selection, first dance, entrance songs, etc. He put together an agenda that we reviewed prior to our wedding day to ensure everything was as expected."Click here to read Lorry's complete review
Jenna & Matt K.
June 1st, 2013 | Royal Fox Country Club
"Lorry was phenomenal. He kept everyone dancing the entire night!"